(Director Tim Burton & Charles Addams' "Family")

Well, it appears to be happening. Tim Burton, and producer Chris Meledandri, have snagged the rights to the late Charles Addams' New Yorker cartoons for the purpose of making an Addams 'Family' feature film. As of yet, IMDB has nothing listed in the way of pre-production notes. I'm assuming that is an indication that the project is still in the developmental stages (i.e. writing the script).
Charles Addams' work was an influence on Burton, which isn't really a surprise. Burton is a very artistic and creative soul, much of his work falling into the darkly whimsical. A place Addams' cartoons of his famous "family" reside. There is a part of me that is looking forward to the new project, for a couple of reasons.
(Charles Addams)
It's not being treated as a "reboot" (a term that has found popularity as of late, when referring to a TV or film remake). Burton sought the rights to Addams' library of cartoons, as that is where he is pulling his projects influence. The new film will be based on the original 'family', as opposed to the "Addams Family" of television. (Note: The 'family' in the drawings did not have names. Addams was asked to give the family members names when the very first television show was being created. 'Cousin Itt's' name was the only holdover from the cartoons, where he was just referred to as "it".)
The new film will be in stop motion animation, and there are indications that it will be shot in black and white. The works I have seen that have had Burton attached in one capacity or another, have all been great. He co-directed "Corpse Bride", which was good, and he directed "Frankinweenie", which has yet to be released (October, 2012). I can't speak to his work on the latter, but "Corpse Bride" indicates that he might very well do a good job with the "Addams Family". I will be extremely disappointed if he doesn't.
There is also a part of me that has worries about the new project. They stem from the fact that more recent "reboots" of his have been less than…well, they haven't been that great. "Willy Wonka and the Chocolate Factory" being the main project on that list. Burton was reported as being very vocal about wanting to make a much better film. Apparently, he thought the Gene Wilder version (the beloved Gene Wilder version) was terrible. He wanted to make a movie that did the work justice. Okay, Tim…well, you didn't. Other than Johnny Depp's creepily good portrayal of Wonka, the production design got in the way of the movie. The Oompa-Loompa's were terrible, and the music really sucked. Big goose egg…and not a golden one.
You might be thinking that "Wonka" was more of a reboot…Burton said the "Addams" project will not be a reboot. Point made. Let's take a look at a couple of his more recent films that are based on established work, but take place after said original work ends.
Take Burton's feature version of "Dark Shadows", for example…*sigh*…another disappointment. Yes, "Dark Shadows" first aired more than forty years ago, but it has a massive fan base that grows even today. Try to venture into well-known and well-loved territory for many people, and you are dealing with a seriously sharp double-edged sword. "DS" is way too camp, and not in a good way. Amazingly enough, Burton's forays into eccentricity and humor are falling flat as of late. It is disappointing that the man that gave us "Pee Wee's Big Adventure", and "Betelgeuse", is kind of getting in his own way. His journey into the realm of Wonderland was a bit better, but I think the only thing that saved him on "Alice in Wonderland" is the fact that he didn't make a reboot. He made a film based on the 'what happened next' formula. If I had to name one element that is working against him, I would have to say it's his artistic vision. He is an incredibly intelligent and creative artist. I am a fan of his work. However, I think he has ended up whacking us over the head with the artistic side of these recent films. It gets in the way of the story. On an up note, "Sweeney Todd" was awesome, so he still has it in him to make a great film. Here's hoping the Addams Family can be added to his list of 'greats'.
There have been a number of Addams Family based shows and movies, both for TV and the big screen. I won't go so far as to say that it has been done to death, but it has been produced a number of ways already, some successful, others not so much. The live action forms began in the 1960's with "The Addams Family", starring John Astin and Carolyn Jones as 'Gomez' and 'Morticia' respectively. It would be followed through the years by a string of productions: "Halloween With The New Addams Family" (1977), a TV movie featuring most of the original cast of the first series; "The New Addams Family" (1998-1999), an updated for the 90's TV series, with a new cast; "The Addams Family" (1991), and "Addams Family Values" (1993), both features starring Raul Julia (R.I.P.) and Anjelica Huston as 'Gomez' and 'Morticia'…great production values and casting…they had more of a vibe that harkened back to the original cartoons; "Addams Family Reunion" (1998), starring Tim Curry and Daryl Hannah as 'Gomez' and 'Morticia'. There have also been a couple of animated attempts: "The Addams Family" (1973), a cartoon that only lasted five episodes; "The Addams Family" (1992-1993), this cartoon lasted 21 episodes. More recently, the Addams' have been appearing on the stages of New York…they are still getting around.

(I have included a list of links to available trailers and such of the listed shows. You can find them at the end of this post.)


In what write ups I could find on any early specifics about the production, I learned that the "Ed Wood" screenwriting duo of Scott Alexander, and Larry Karaszewski, are doing the honors in writing the Addams script. Karaszewski was quoted as saying that they "want the movie to be as darkly funny and subversive as the drawings." Good to know. I really hope they capture some as yet unseen essences of the cartoons for this version. We shall see.

Staying on the subject of "The Addams Family", I am going to shift gears a bit, and focus on the original series. The beloved denizens of 001 Cemetery Lane (next to a grave yard), first appeared on television sets on September 18th, 1964. ABC would air 64 Episodes in all, at 8:30 PM…sitcom slot time. The cast:
(Starting on the left: 'Thing', 'Ophelia Frump', 'Granny Frump', 'Cousin Itt')
A regular fixture of the series who isn't pictured above is 'Thing T. Thing', the helpful hand-in-a-box. The credits always listed 'Thing' as being played by 'itself', but in reality Ted Cassidy ('Lurch') did the honors. If Lurch and Thing had a scene together, Assistant Director, Jack Voglin, would step in. 'Granny Frump' was played by famous actress, Margaret Hamilton, who is instantly recognizable by most people as Dorothy Gale's arch nemesis (the 'Wicked Witch of the West') in "The Wizard of Oz". The light haired, and daisy covered, Ophelia Frump (Morticia's sister), was also played by Carolyn Jones. The short and hairy 'Cousin Itt' was played by 3'10" Italian, Felix Silla (he also played the robot Twiki on "Buck Rogers in the 25
th
Century").
Yep, as crazy as it may sound, an attempt was made to turn Lurch's dance from the episode "Lurch, The Teenage Idol", into a hit song. The video above is an appearance he made on 'Shindig!' (1965).
In less than two weeks, it will be the 48th Anniversary of "The Addams Family" television series. In celebration of the anniversary, I am posting a bunch of GIF's.
"The Addams Family" is one of my favorite television shows, and the Addams' are one of my favorite families. I think I can safely say that they are timeless, and their popularity will continue for years to come.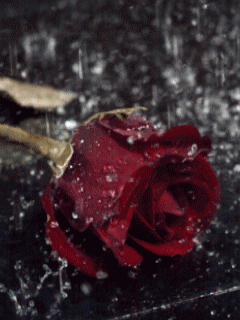 To watch the show intros and trailers without my page music, you can find the music player at the bottom of the blog page. Just click the pause button.
"The Addams Family" Cartoon (1973) Intro



"Halloween With The New Addams Family" made for TV movie (1977) Preview


"The Addams Family" Cartoon Intro (1992-1993):
http://www.youtube.com/watch?v=IokBKvFiCvM
"The New Addams Family" TV series (1992-1993) Intro
"The Addams Family" Feature Film (1991) Trailer
"Addams Family Values" Feature Film (1993) Trailer